A Curative Solution
PILONIDAL CYST Treatment in New Jersey | Dr. Shomaf Nakhjo
Pilonidal disease can cause extreme discomfort and can be a notoriously difficult condition to resolve. It can cause pain while sitting, lying down, or when coming in contact with clothing. If left untreated, pilonidal disease can lead to further complications, such as infection or abcess.
Fortunately, Dr. Shomaf Nakhjo offers a curative solution to pilonidal disease, offering lasting relief and preventing the condition from recurring. Take the first step towards a permanent Pilonidal Cyst Treatment in New Jersey with a consultation with Dr. Shomaf Nakhjo - Advanced Minimally Invasive Surgery.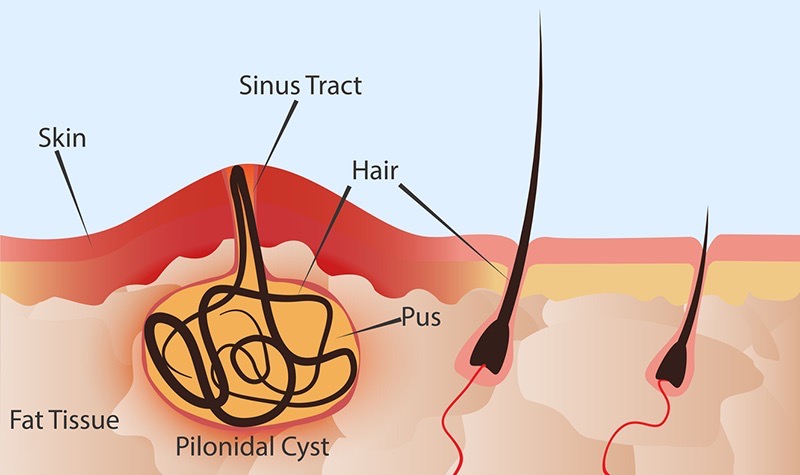 WHAT IS PILONIDAL DISEASE?
Pilonidal disease (often referred to as a Pilonidal cyst) is a chronic skin and subcutaneous fat infection in the crease of the buttocks typically occurring in teens and young adults. The condition is often the result of hairs that invade the skin in the cleft (crease) and become infected.
HOW DO I KNOW IF I HAVE PILONIDAL CYST DISEASE?
Symptoms
Most patients with a Pilonidal Cyst experience large, painful areas that are tender to the touch with openings that have clear, cloudy or bloody discharge. Redness and tenderness with foul smelling pus (discharge), along with possible fever, are indications of an abscess formation.
While pilonidal disease is relatively common, many don't realize that there is an incredibly high recurrence rate if not treated properly.
Although the symptoms of Pilonidal Cyst Disease can differ from person to person, they generally involve:
Bleeding and pain in the gluteal crease
Discomfort in the sacrum or middle of the buttocks
A painful bump in the buttock crease area
Drainage from the pilonidal wound
Other physical signs that may indicate the presence of the condition include:
A deep crease in the buttocks
Hairs entering larger pores with small holes on the skin
Bleeding or drainage
A sinus tract exiting the skin near the enlarged pores
Darkened skin on both sides of the buttock crease
A tender red lump near the buttock crease, or redness in that area
Pilonidal Glossary
Eliminate Pilonidal Cysts Once & For All
Your Pilonidal Cyst Treatment
The first course of action for patients is typically a round of antibiotics along with draining of the abscess, however, most cases will ultimately need surgery for definitive management.
Unfortunately, a routine pilonidal cystectomy (midline wound/open) that most surgeons perform has a very high recurrence rate. The cleft lift procedure (Bascom Lift) is another option.
Dr. Nakhjo is one of a few surgeons in the country who performs the cleft lift procedure. It is an outpatient surgical procedure that is intended to cure pilonidal disease. The procedure takes about an hour (performed under general anesthesia). Patients are typically home the same day, with minimal discomfort and can return to normal daily activity within 1-2 days and full activity without any restriction in 2 weeks.
What are my treatment options, and why is your focus mainly on performing the Cleft Lift procedure?
Pit picking, SiLac (laser treatment), EPSiT (endoscopic excision), Gips, Simple Pilonidal Cystectomy, and Open Excision are all surgical alternatives that may be used to treat pilonidal disease. It is reasonable for some patients to explore and try some of these alternatives. Some are more invasive, and some are less invasive than the Cleft Lift procedure. However, remember that they can have up to a 60% recurrence rate, and recovery may be even more difficult than the Cleft Lift procedure.
We generally do not advise having any of these procedures and only reserve them for select patients with very limited or minimal pilonidal disease.
These procedures have such high recurrence rates because they do not address the underlying issue, a deep gluteal cleft (butt crease)—a deep gluteal cleft harbors and traps moisture and bacteria, which cause pilonidal disease. The Cleft Lift procedure eliminates this and is the reason why it has a 99% success rate.